2017
Chevrolet
Express Cargo Van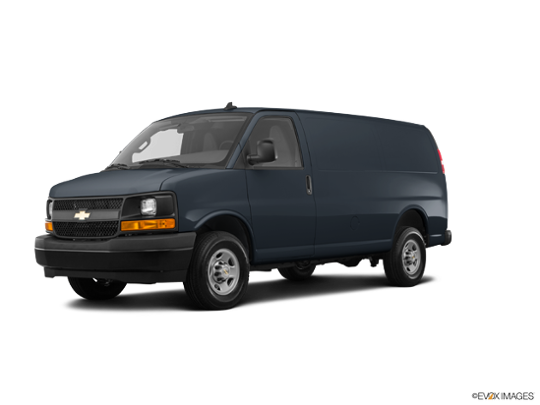 2017

Express Cargo Van

2500 Regular Wheelbase Rear-Wheel Drive

2017

Express Cargo Van

2500 Extended Wheelbase Rear-Wheel Drive

2017

Express Cargo Van

3500 Regular Wheelbase Rear-Wheel Drive

2017

Express Cargo Van

3500 Extended Wheelbase Rear-Wheel Drive
See all Chevrolet Express Cargo Van vehicles for sale
27 photos

Exact Match

2017

Chevrolet

Express Cargo Van

2500 Regular Wheelbase Rear-Wheel Drive

Price

$29,962*

Specials Available

Exterior

Gan Silver Ice

Interior

Medium Pewter W/custom Cloth Seat Trim

Engine

4.8L V8

VIN

1GCWGAFF8H1127155

28 photos

Exact Match

2017

Chevrolet

Express Cargo Van

2500 Regular Wheelbase Rear-Wheel Drive

Price

$30,321*

Specials Available

Exterior

Gaz

Interior

Medium Pewter W/custom Cloth Seat Trim

Engine

4.8L V8

VIN

1GCWGAFF9H1127021

27 photos

Exact Match

2017

Chevrolet

Express Cargo Van

2500 Regular Wheelbase Rear-Wheel Drive

Price

$30,334*

Specials Available

Exterior

Gbv Cyber Gray

Interior

Medium Pewter W/custom Cloth Seat Trim

Engine

4.8L V8

VIN

1GCWGAFF5H1114735

27 photos

Exact Match

2017

Chevrolet

Express Cargo Van

2500 Regular Wheelbase Rear-Wheel Drive

Price

$30,495*

Specials Available

Exterior

Gaz Summit White

Interior

Medium Pewter W/custom Cloth Seat Trim

Engine

4.8L V8

VIN

1GCWGAFF5H1127890

29 photos

Exact Match

2017

Chevrolet

Express Cargo Van

2500 Regular Wheelbase Rear-Wheel Drive

Price

$30,753*

Specials Available

Exterior

Gaz Summit White

Interior

Medium Pewter W/custom Cloth Seat Trim

Engine

4.8L V8

VIN

1GCWGAFFXH1139503

28 photos

Close Match

2017

Chevrolet

Express Cargo Van

2500 Extended Wheelbase Rear-Wheel Drive

Price

$32,265*

Specials Available

Exterior

Gaz Summit White

Interior

Medium Pewter W/vinyl Seat Trim

Engine

4.8L V8

VIN

1GCWGBFF0H1152752
28 photos

Exact Match

2017

Chevrolet

Express Cargo Van

2500 Extended Wheelbase Rear-Wheel Drive

Price

$32,265*

Specials Available

Exterior

Gaz Summit White

Interior

Medium Pewter W/vinyl Seat Trim

Engine

4.8L V8

VIN

1GCWGBFF0H1152752

25 photos

Exact Match

2017

Chevrolet

Express Cargo Van

2500 Extended Wheelbase Rear-Wheel Drive

Price

$32,313*

Specials Available

Exterior

Gaz Summit White

Interior

Medium Pewter W/vinyl Seat Trim

Engine

4.8L V8

VIN

1GCWGBFF4H1136246

27 photos

Close Match

2017

Chevrolet

Express Cargo Van

2500 Regular Wheelbase Rear-Wheel Drive

Price

$29,962*

Specials Available

Exterior

Gan Silver Ice

Interior

Medium Pewter W/custom Cloth Seat Trim

Engine

4.8L V8

VIN

1GCWGAFF8H1127155

28 photos

Close Match

2017

Chevrolet

Express Cargo Van

2500 Regular Wheelbase Rear-Wheel Drive

Price

$30,321*

Specials Available

Exterior

Gaz

Interior

Medium Pewter W/custom Cloth Seat Trim

Engine

4.8L V8

VIN

1GCWGAFF9H1127021

27 photos

Close Match

2017

Chevrolet

Express Cargo Van

2500 Regular Wheelbase Rear-Wheel Drive

Price

$30,334*

Specials Available

Exterior

Gbv Cyber Gray

Interior

Medium Pewter W/custom Cloth Seat Trim

Engine

4.8L V8

VIN

1GCWGAFF5H1114735

27 photos

Close Match

2017

Chevrolet

Express Cargo Van

2500 Regular Wheelbase Rear-Wheel Drive

Price

$30,495*

Specials Available

Exterior

Gaz Summit White

Interior

Medium Pewter W/custom Cloth Seat Trim

Engine

4.8L V8

VIN

1GCWGAFF5H1127890
28 photos

Close Match

2017

Chevrolet

Express Cargo Van

2500 Extended Wheelbase Rear-Wheel Drive

Price

$32,265*

Specials Available

Exterior

Gaz Summit White

Interior

Medium Pewter W/vinyl Seat Trim

Engine

4.8L V8

VIN

1GCWGBFF0H1152752

25 photos

Close Match

2017

Chevrolet

Express Cargo Van

2500 Extended Wheelbase Rear-Wheel Drive

Price

$32,313*

Specials Available

Exterior

Gaz Summit White

Interior

Medium Pewter W/vinyl Seat Trim

Engine

4.8L V8

VIN

1GCWGBFF4H1136246

27 photos

Close Match

2017

Chevrolet

Express Cargo Van

2500 Regular Wheelbase Rear-Wheel Drive

Price

$29,962*

Specials Available

Exterior

Gan Silver Ice

Interior

Medium Pewter W/custom Cloth Seat Trim

Engine

4.8L V8

VIN

1GCWGAFF8H1127155

28 photos

Close Match

2017

Chevrolet

Express Cargo Van

2500 Regular Wheelbase Rear-Wheel Drive

Price

$30,321*

Specials Available

Exterior

Gaz

Interior

Medium Pewter W/custom Cloth Seat Trim

Engine

4.8L V8

VIN

1GCWGAFF9H1127021

27 photos

Close Match

2017

Chevrolet

Express Cargo Van

2500 Regular Wheelbase Rear-Wheel Drive

Price

$30,334*

Specials Available

Exterior

Gbv Cyber Gray

Interior

Medium Pewter W/custom Cloth Seat Trim

Engine

4.8L V8

VIN

1GCWGAFF5H1114735

27 photos

Close Match

2017

Chevrolet

Express Cargo Van

2500 Regular Wheelbase Rear-Wheel Drive

Price

$30,495*

Specials Available

Exterior

Gaz Summit White

Interior

Medium Pewter W/custom Cloth Seat Trim

Engine

4.8L V8

VIN

1GCWGAFF5H1127890
28 photos

Close Match

2017

Chevrolet

Express Cargo Van

2500 Extended Wheelbase Rear-Wheel Drive

Price

$32,265*

Specials Available

Exterior

Gaz Summit White

Interior

Medium Pewter W/vinyl Seat Trim

Engine

4.8L V8

VIN

1GCWGBFF0H1152752

25 photos

Close Match

2017

Chevrolet

Express Cargo Van

2500 Extended Wheelbase Rear-Wheel Drive

Price

$32,313*

Specials Available

Exterior

Gaz Summit White

Interior

Medium Pewter W/vinyl Seat Trim

Engine

4.8L V8

VIN

1GCWGBFF4H1136246

27 photos

Close Match

2017

Chevrolet

Express Cargo Van

2500 Regular Wheelbase Rear-Wheel Drive

Price

$29,962*

Specials Available

Exterior

Gan Silver Ice

Interior

Medium Pewter W/custom Cloth Seat Trim

Engine

4.8L V8

VIN

1GCWGAFF8H1127155

28 photos

Close Match

2017

Chevrolet

Express Cargo Van

2500 Regular Wheelbase Rear-Wheel Drive

Price

$30,321*

Specials Available

Exterior

Gaz

Interior

Medium Pewter W/custom Cloth Seat Trim

Engine

4.8L V8

VIN

1GCWGAFF9H1127021

27 photos

Close Match

2017

Chevrolet

Express Cargo Van

2500 Regular Wheelbase Rear-Wheel Drive

Price

$30,334*

Specials Available

Exterior

Gbv Cyber Gray

Interior

Medium Pewter W/custom Cloth Seat Trim

Engine

4.8L V8

VIN

1GCWGAFF5H1114735

27 photos

Close Match

2017

Chevrolet

Express Cargo Van

2500 Regular Wheelbase Rear-Wheel Drive

Price

$30,495*

Specials Available

Exterior

Gaz Summit White

Interior

Medium Pewter W/custom Cloth Seat Trim

Engine

4.8L V8

VIN

1GCWGAFF5H1127890
Trim Overview
2017

Express Cargo Van

2500 Regular Wheelbase Rear-Wheel Drive

Rear Wheel Drive

2017

Express Cargo Van

2500 Extended Wheelbase Rear-Wheel Drive

Rear Wheel Drive

2017

Express Cargo Van

3500 Regular Wheelbase Rear-Wheel Drive

Rear Wheel Drive

2017

Express Cargo Van

3500 Extended Wheelbase Rear-Wheel Drive

Rear Wheel Drive

Exterior

Wheels, 4 - 16" x 6.5" (40.6 cm x 16.5 cm) steel includes Gray center caps and steel spare

Tire, spare LT245/75R16E all-season, blackwall located at rear underbody of vehicle

Door, swing-out passenger-side, 60/40 split

Tires, front LT245/75R16E all-season, blackwall

Tires, rear LT245/75R16E all-season, blackwall

Bumpers, front and rear painted Black with step-pad (Deleted when (ZR7) Chrome Appearance Package is ordered.)

Grille, Black composite with single rectangular halogen headlamps (Not available with (ZR7) Chrome Appearance Package.)

Headlamps, single halogen (Not available with (ZR7) Chrome Appearance Package.)

Mirrors, outside manual, Black

Glass, Solar-Ray light-tinted, all windows

Wipers, front intermittent wet-arm with pulse washers

License plate kit, front

Wheels, 4 - 16" x 6.5" (40.6 cm x 16.5 cm) steel includes Gray center caps and steel spare

Tire, spare LT245/75R16E all-season, blackwall located at rear underbody of vehicle

Door, swing-out passenger-side, 60/40 split

Tires, front LT245/75R16E all-season, blackwall

Tires, rear LT245/75R16E all-season, blackwall

Bumpers, front and rear painted Black with step-pad (Deleted when (ZR7) Chrome Appearance Package is ordered.)

Grille, Black composite with single rectangular halogen headlamps (Not available with (ZR7) Chrome Appearance Package.)

Headlamps, single halogen (Not available with (ZR7) Chrome Appearance Package.)

Mirrors, outside manual, Black

Glass, Solar-Ray light-tinted, all windows

Wipers, front intermittent wet-arm with pulse washers

License plate kit, front

Wheels, 4 - 16" x 6.5" (40.6 cm x 16.5 cm) steel includes Gray center caps and steel spare

Tire, spare LT245/75R16E all-season, blackwall located at rear underbody of vehicle

Door, swing-out passenger-side, 60/40 split

Tires, front LT245/75R16E all-season, blackwall

Tires, rear LT245/75R16E all-season, blackwall

Bumpers, front and rear painted Black with step-pad (Deleted when (ZR7) Chrome Appearance Package is ordered.)

Grille, Black composite with single rectangular halogen headlamps (Not available with (ZR7) Chrome Appearance Package.)

Headlamps, single halogen (Not available with (ZR7) Chrome Appearance Package.)

Mirrors, outside manual, Black

Glass, Solar-Ray light-tinted, all windows

Wipers, front intermittent wet-arm with pulse washers

License plate kit, front

Wheels, 4 - 16" x 6.5" (40.6 cm x 16.5 cm) steel includes Gray center caps and steel spare

Tire, spare LT245/75R16E all-season, blackwall located at rear underbody of vehicle

Door, swing-out passenger-side, 60/40 split

Tires, front LT245/75R16E all-season, blackwall

Tires, rear LT245/75R16E all-season, blackwall

Bumpers, front and rear painted Black with step-pad (Deleted when (ZR7) Chrome Appearance Package is ordered.)

Grille, Black composite with single rectangular halogen headlamps (Not available with (ZR7) Chrome Appearance Package.)

Headlamps, single halogen (Not available with (ZR7) Chrome Appearance Package.)

Mirrors, outside manual, Black

Glass, Solar-Ray light-tinted, all windows

Wipers, front intermittent wet-arm with pulse washers

License plate kit, front

Interior

Seats, front bucket with vinyl trim and outboard head restraints, includes inboard armrests. (Requires (**W) interior trim. Includes (DAA) driver and front passenger vinyl visors.)

Seating arrangement, driver and front passenger high-back buckets with head restraints and vinyl or cloth trim (Not available with (AJ3) driver-side only frontal air bag.)

Air conditioning, single-zone manual

Console, engine cover with open storage bin

Floor covering, full-length Black rubberized-vinyl (Not available with (RFM) rear floor covering delete, (5BV) Upfitter electrical or (PCH) Hotel Shuttle Package.)

Steering wheel, steel sleeve column with theft-deterrent locking feature, Black

Instrumentation, analog with speedometer, odometer with trip odometer, fuel level, voltmeter, engine temperature and oil pressure

Oil life monitor

Warning tones, headlamp on and key-in-ignition

Driver Information Center includes fuel range, average speed, oil life, tire pressure monitoring, fuel used, ice warning, engine hours, average fuel economy, tachometer, and maintenance reminders. Compass and outside temperature available if equipped.

Door locks, power with lock-out protection (Included with (ZQ2) convenience Package. NOTE: Does not include (ATG) Remote Keyless Entry. (ATG) Remote Keyless Entry must be ordered separately.)

Windows, power (Included with (ZQ2) Convenience Package.)

Tow/haul mode selector, instrument panel-mounted

Theft-deterrent system, vehicle, PASS-Key III

Defogger, side windows

Cup holders, 3 on the engine console cover

Power outlets, 2 auxiliary on engine console cover with covers, 12-volt

Power outlet, 120-volt

Trim panels, hinged rear side doors and hinged rear doors (Not available with (Y3H) Paratransit Package.)

Headliner, cloth, over driver and passenger

Visors, driver and front passenger, cloth, padded

Assist handles, driver and right-front passenger

Lighting, interior with 4 dome lights 1 overhead and 3 LED's on cross members in cargo area, includes defeat switch and door handle-activated switches

Cargo tie-downs 6 D-ring attachments on cargo area floor (Not available with (Y3H) Paratransit Package, (5BV) Upfitter electrical provisions, (5L3) interior trim panel or (ZP6) 5-passenger Express Crew Van.)

Seats, front bucket with vinyl trim and outboard head restraints, includes inboard armrests. (Requires (**W) interior trim. Includes (DAA) driver and front passenger vinyl visors.)

Seating arrangement, driver and front passenger high-back buckets with head restraints and vinyl or cloth trim (Not available with (AJ3) driver-side only frontal air bag.)

Air conditioning, single-zone manual

Console, engine cover with open storage bin

Floor covering, full-length Black rubberized-vinyl (Not available with (RFM) rear floor covering delete, (5BV) Upfitter electrical or (PCH) Hotel Shuttle Package.)

Steering wheel, steel sleeve column with theft-deterrent locking feature, Black

Instrumentation, analog with speedometer, odometer with trip odometer, fuel level, voltmeter, engine temperature and oil pressure

Oil life monitor

Warning tones, headlamp on and key-in-ignition

Driver Information Center includes fuel range, average speed, oil life, tire pressure monitoring, fuel used, ice warning, engine hours, average fuel economy, tachometer, and maintenance reminders. Compass and outside temperature available if equipped.

Door locks, power with lock-out protection (Included with (ZQ2) convenience Package. NOTE: Does not include (ATG) Remote Keyless Entry. (ATG) Remote Keyless Entry must be ordered separately.)

Windows, power (Included with (ZQ2) Convenience Package.)

Tow/haul mode selector, instrument panel-mounted

Theft-deterrent system, vehicle, PASS-Key III

Defogger, side windows

Cup holders, 3 on the engine console cover

Power outlets, 2 auxiliary on engine console cover with covers, 12-volt

Power outlet, 120-volt

Trim panels, hinged rear side doors and hinged rear doors (Not available with (Y3H) Paratransit Package.)

Headliner, cloth, over driver and passenger

Visors, driver and front passenger, cloth, padded

Assist handles, driver and right-front passenger

Lighting, interior with 4 dome lights 1 overhead and 3 LED's on cross members in cargo area, includes defeat switch and door handle-activated switches

Cargo tie-downs 6 D-ring attachments on cargo area floor (Not available with (Y3H) Paratransit Package, (5BV) Upfitter electrical provisions, (5L3) interior trim panel or (ZP6) 5-passenger Express Crew Van.)

Seats, front bucket with vinyl trim and outboard head restraints, includes inboard armrests. (Requires (**W) interior trim. Includes (DAA) driver and front passenger vinyl visors.)

Seating arrangement, driver and front passenger high-back buckets with head restraints and vinyl or cloth trim (Not available with (AJ3) driver-side only frontal air bag.)

Air conditioning, single-zone manual

Console, engine cover with open storage bin

Floor covering, full-length Black rubberized-vinyl (Not available with (RFM) rear floor covering delete or (PCH) Hotel Shuttle Package.)

Steering wheel, steel sleeve column with theft-deterrent locking feature, Black

Instrumentation, analog with speedometer, odometer with trip odometer, fuel level, voltmeter, engine temperature and oil pressure

Oil life monitor

Warning tones, headlamp on and key-in-ignition

Driver Information Center includes fuel range, average speed, oil life, tire pressure monitoring, fuel used, ice warning, engine hours, average fuel economy, tachometer, and maintenance reminders. Compass and outside temperature available if equipped.

Door locks, power with lock-out protection (Included with (ZQ2) convenience Package. NOTE: Does not include (ATG) Remote Keyless Entry. (ATG) Remote Keyless Entry must be ordered separately.)

Windows, power (Included with (ZQ2) Convenience Package.)

Tow/haul mode selector, instrument panel-mounted

Theft-deterrent system, vehicle, PASS-Key III

Defogger, side windows

Cup holders, 3 on the engine console cover

Power outlets, 2 auxiliary on engine console cover with covers, 12-volt

Power outlet, 120-volt

Trim panels, hinged rear side doors and hinged rear doors (Not available with (Y3H) Paratransit Package.)

Headliner, cloth, over driver and passenger

Visors, driver and front passenger, cloth, padded

Assist handles, driver and right-front passenger

Lighting, interior with 4 dome lights 1 overhead and 3 LED's on cross members in cargo area, includes defeat switch and door handle-activated switches

Cargo tie-downs 6 D-ring attachments on cargo area floor (Not available with (Y3H) Paratransit Package, (5L3) interior trim panel or (ZP6) 5-passenger Express Crew Van.)

Seats, front bucket with vinyl trim and outboard head restraints, includes inboard armrests. (Requires (**W) interior trim. Includes (DAA) driver and front passenger vinyl visors.)

Seating arrangement, driver and front passenger high-back buckets with head restraints and vinyl or cloth trim (Not available with (AJ3) driver-side only frontal air bag.)

Air conditioning, single-zone manual

Console, engine cover with open storage bin

Floor covering, full-length Black rubberized-vinyl (Not available with (RFM) rear floor covering delete, (PCH) Hotel Shuttle Package or (YF2) Ambulance Package.)

Steering wheel, steel sleeve column with theft-deterrent locking feature, Black

Instrumentation, analog with speedometer, odometer with trip odometer, fuel level, voltmeter, engine temperature and oil pressure

Oil life monitor

Warning tones, headlamp on and key-in-ignition

Driver Information Center includes fuel range, average speed, oil life, tire pressure monitoring, fuel used, ice warning, engine hours, average fuel economy, tachometer, and maintenance reminders. Compass and outside temperature available if equipped.

Door locks, power with lock-out protection (Included with (ZQ2) convenience Package. NOTE: Does not include (ATG) Remote Keyless Entry. (ATG) Remote Keyless Entry must be ordered separately.)

Windows, power (Included with (ZQ2) Convenience Package.)

Tow/haul mode selector, instrument panel-mounted

Theft-deterrent system, vehicle, PASS-Key III

Defogger, side windows

Cup holders, 3 on the engine console cover

Power outlets, 2 auxiliary on engine console cover with covers, 12-volt

Power outlet, 120-volt

Trim panels, hinged rear side doors and hinged rear doors (Not available with (Y3H) Paratransit Package.)

Headliner, cloth, over driver and passenger

Visors, driver and front passenger, cloth, padded

Assist handles, driver and right-front passenger

Lighting, interior with 4 dome lights 1 overhead and 3 LED's on cross members in cargo area, includes defeat switch and door handle-activated switches

Cargo tie-downs 6 D-ring attachments on cargo area floor (Not available with (YF2) Ambulance Package, (Y3H) Paratransit Package, (5L3) interior trim panel or (ZP6) 5-passenger Express Crew Van.)

Mechanical

Engine, Vortec 4.8L V8 SFI (285 hp [212.5 kW] @ 5400 rpm, 295 lb-ft of torque [398.3 N-m] @ 4600 rpm) (Includes external engine oil cooler. Reference the Engine/Axle page for availability.)

Transmission, 6-speed automatic, heavy-duty, electronically controlled with overdrive tow/haul mode and internal transmission oil cooler (Reference the Engine/Axle page for availability.)

Rear axle, 3.42 ratio (Reference the Engine/Axle page for availability.)

Body, standard

GVWR, 8600 lbs. (3901 kg) (Reference the Engine/Axle page for availability.)

Transmission oil cooler, external (Deleted when (LWN) 2.8L Duramax Turbo Diesel engine is ordered.)

Rear wheel drive

Battery, 600 cold-cranking amps, maintenance-free with rundown protection and retained accessory power

Alternator, 105 amps (Not available with (Y3H) Paratransit Package or (LWN) 2.8L Duramax Turbo Diesel engine.)

Frame, full-length box ladder-type

Suspension, front independent with coil springs and stabilizer bar

Suspension, rear hypoid drive axle with multi-leaf springs

Steering, power

Brakes, 4-wheel antilock, 4-wheel disc

Fuel tank capacity, mid-frame and approximately 31 gallons (117.3L)

Exhaust, aluminized stainless-steel muffler and tailpipe

Engine, Vortec 4.8L V8 SFI (285 hp [212.5 kW] @ 5400 rpm, 295 lb-ft of torque [398.3 N-m] @ 4600 rpm) (Includes external engine oil cooler. Reference the Engine/Axle page for availability.)

Transmission, 6-speed automatic, heavy-duty, electronically controlled with overdrive tow/haul mode and internal transmission oil cooler (Reference the Engine/Axle page for availability.)

Rear axle, 3.42 ratio (Reference the Engine/Axle page for availability.)

Body, standard

GVWR, 8600 lbs. (3901 kg) (Reference the Engine/Axle page for availability.)

Transmission oil cooler, external (Deleted when (LWN) 2.8L Duramax Turbo Diesel engine is ordered.)

Rear wheel drive

Battery, 600 cold-cranking amps, maintenance-free with rundown protection and retained accessory power

Alternator, 105 amps (Not available with (Y3H) Paratransit Package or (LWN) 2.8L Duramax Turbo Diesel engine.)

Frame, full-length box ladder-type

Suspension, front independent with coil springs and stabilizer bar

Suspension, rear hypoid drive axle with multi-leaf springs

Steering, power

Brakes, 4-wheel antilock, 4-wheel disc

Fuel tank capacity, mid-frame and approximately 31 gallons (117.3L)

Exhaust, aluminized stainless-steel muffler and tailpipe

Engine, Vortec 4.8L V8 SFI (285 hp [212.5 kW] @ 5400 rpm, 295 lb-ft of torque [398.3 N-m] @ 4600 rpm) (Includes external engine oil cooler. Reference the Engine/Axle page for availability.)

Transmission, 6-speed automatic, heavy-duty, electronically controlled with overdrive tow/haul mode and internal transmission oil cooler (Reference the Engine/Axle page for availability.)

Rear axle, 3.42 ratio (Reference the Engine/Axle page for availability.)

Body, standard

GVWR, 9600 lbs. (4354 kg) (Reference the Engine/Axle page for availability.)

Transmission oil cooler, external (Deleted when (LWN) 2.8L Duramax Turbo Diesel engine is ordered.)

Rear wheel drive

Battery, 600 cold-cranking amps, maintenance-free with rundown protection and retained accessory power

Alternator, 105 amps (Not available with (Y3H) Paratransit Package or (LWN) 2.8L Duramax Turbo Diesel engine.)

Frame, full-length box ladder-type

Suspension, front independent with coil springs and stabilizer bar

Suspension, rear hypoid drive axle with multi-leaf springs

Steering, power

Brakes, 4-wheel antilock, 4-wheel disc

Fuel tank capacity, mid-frame and approximately 31 gallons (117.3L)

Exhaust, aluminized stainless-steel muffler and tailpipe

Engine, Vortec 4.8L V8 SFI (285 hp [212.5 kW] @ 5400 rpm, 295 lb-ft of torque [398.3 N-m] @ 4600 rpm) (Includes external engine oil cooler. Reference the Engine/Axle page for availability.)

Transmission, 6-speed automatic, heavy-duty, electronically controlled with overdrive tow/haul mode and internal transmission oil cooler (Reference the Engine/Axle page for availability.)

Rear axle, 3.42 ratio (Reference the Engine/Axle page for availability.)

Body, standard

GVWR, 9600 lbs. (4354 kg) (Reference the Engine/Axle page for availability.)

Transmission oil cooler, external (Deleted when (LWN) 2.8L Duramax Turbo Diesel engine is ordered.)

Rear wheel drive

Battery, 600 cold-cranking amps, maintenance-free with rundown protection and retained accessory power

Alternator, 105 amps (Not available with (Y3H) Paratransit Package or (LWN) 2.8L Duramax Turbo Diesel engine.)

Frame, full-length box ladder-type

Suspension, front independent with coil springs and stabilizer bar

Suspension, rear hypoid drive axle with multi-leaf springs

Steering, power

Brakes, 4-wheel antilock, 4-wheel disc

Fuel tank capacity, mid-frame and approximately 31 gallons (117.3L)

Exhaust, aluminized stainless-steel muffler and tailpipe

Safety

Brake/transmission shift interlock, for automatic transmissions

StabiliTrak, traction assistance and vehicle stability enhancement system

Door beams, steel-side

Daytime Running Lamps

Air bags, frontal, driver and right-front passenger (Includes passenger-side air bag deactivation switch. Included with (ZX2) driver and front passenger high-back bucket seats or (ZP6) 5-passenger Express Crew Van Package. Not available with (ZX1) driver only high-back bucket seat or (AJ3) driver-side only frontal air bag. Always use safety belts and the correct child restraints. Children are safer when properly secured in a rear seat in the appropriate child restraint. See the Owner's Manual for more information.)

Air bags, driver and right-front passenger, seat-mounted side-impact and head curtain side-impact (Always use safety belts and the correct child restraints. Children are safer when properly secured in a rear seat in the appropriate child restraint. See the Owner's Manual for more information.)

Air bag deactivation switch, frontal, passenger-side (Always use safety belts and the correct child restraints. Children are safer when properly secured in a rear seat in the appropriate child restraint. See the Owner's Manual for more information.)

Tire Pressure Monitoring System (does not apply to spare tire)

Brake/transmission shift interlock, for automatic transmissions

StabiliTrak, traction assistance and vehicle stability enhancement system

Door beams, steel-side

Daytime Running Lamps

Air bags, frontal, driver and right-front passenger (Includes passenger-side air bag deactivation switch. Included with (ZX2) driver and front passenger high-back bucket seats or (ZP6) 5-passenger Express Crew Van Package. Not available with (ZX1) driver only high-back bucket seat or (AJ3) driver-side only frontal air bag. Always use safety belts and the correct child restraints. Children are safer when properly secured in a rear seat in the appropriate child restraint. See the Owner's Manual for more information.)

Air bags, driver and right-front passenger, seat-mounted side-impact and head curtain side-impact (Always use safety belts and the correct child restraints. Children are safer when properly secured in a rear seat in the appropriate child restraint. See the Owner's Manual for more information.)

Air bag deactivation switch, frontal, passenger-side (Always use safety belts and the correct child restraints. Children are safer when properly secured in a rear seat in the appropriate child restraint. See the Owner's Manual for more information.)

Tire Pressure Monitoring System (does not apply to spare tire)

Brake/transmission shift interlock, for automatic transmissions

StabiliTrak, traction assistance and vehicle stability enhancement system

Door beams, steel-side

Daytime Running Lamps

Air bags, frontal, driver and right-front passenger (Includes passenger-side air bag deactivation switch. Included with (ZX2) driver and front passenger high-back bucket seats or (ZP6) 5-passenger Express Crew Van Package. Not available with (ZX1) driver only high-back bucket seat or (AJ3) driver-side only frontal air bag. Always use safety belts and the correct child restraints. Children are safer when properly secured in a rear seat in the appropriate child restraint. See the Owner's Manual for more information.)

Air bags, driver and right-front passenger, seat-mounted side-impact and head curtain side-impact (Always use safety belts and the correct child restraints. Children are safer when properly secured in a rear seat in the appropriate child restraint. See the Owner's Manual for more information.)

Air bag deactivation switch, frontal, passenger-side (Always use safety belts and the correct child restraints. Children are safer when properly secured in a rear seat in the appropriate child restraint. See the Owner's Manual for more information.)

Tire Pressure Monitoring System (does not apply to spare tire)

Brake/transmission shift interlock, for automatic transmissions

StabiliTrak, traction assistance and vehicle stability enhancement system

Door beams, steel-side

Daytime Running Lamps

Air bags, frontal, driver and right-front passenger (Includes passenger-side air bag deactivation switch. Included with (ZX2) driver and front passenger high-back bucket seats or (ZP6) 5-passenger Express Crew Van Package. Not available with (ZX1) driver only high-back bucket seat or (AJ3) driver-side only frontal air bag. Always use safety belts and the correct child restraints. Children are safer when properly secured in a rear seat in the appropriate child restraint. See the Owner's Manual for more information.)

Air bags, driver and right-front passenger, seat-mounted side-impact and head curtain side-impact (Not available with (YF2) Ambulance Package. Always use safety belts and the correct child restraints. Children are safer when properly secured in a rear seat in the appropriate child restraint. See the Owner's Manual for more information.)

Air bag deactivation switch, frontal, passenger-side (Always use safety belts and the correct child restraints. Children are safer when properly secured in a rear seat in the appropriate child restraint. See the Owner's Manual for more information.)

Tire Pressure Monitoring System (does not apply to spare tire)

Warranty

Basic: 3 Years/36,000 Miles

Drivetrain: 5 Years/60,000 Miles Qualified Fleet Purchases: 5 Years/100,000 Miles

Corrosion: 3 Years/36,000 Miles Rust-Through 6 Years/100,000 Miles

Roadside Assistance: 5 Years/60,000 Miles Qualified Fleet Purchases: 5 Years/100,000 Miles

Maintenance: 2 Years/24,000 Miles 2 visits

Basic: 3 Years/36,000 Miles

Drivetrain: 5 Years/60,000 Miles Qualified Fleet Purchases: 5 Years/100,000 Miles

Corrosion: 3 Years/36,000 Miles Rust-Through 6 Years/100,000 Miles

Roadside Assistance: 5 Years/60,000 Miles Qualified Fleet Purchases: 5 Years/100,000 Miles

Maintenance: 2 Years/24,000 Miles 2 visits

Basic: 3 Years/36,000 Miles

Drivetrain: 5 Years/60,000 Miles Qualified Fleet Purchases: 5 Years/100,000 Miles

Corrosion: 3 Years/36,000 Miles Rust-Through 6 Years/100,000 Miles

Roadside Assistance: 5 Years/60,000 Miles Qualified Fleet Purchases: 5 Years/100,000 Miles

Maintenance: 2 Years/24,000 Miles 2 visits

Basic: 3 Years/36,000 Miles

Drivetrain: 5 Years/60,000 Miles Qualified Fleet Purchases: 5 Years/100,000 Miles

Corrosion: 3 Years/36,000 Miles Rust-Through 6 Years/100,000 Miles

Roadside Assistance: 5 Years/60,000 Miles Qualified Fleet Purchases: 5 Years/100,000 Miles

Maintenance: 2 Years/24,000 Miles 2 visits
Compare Trims
Exterior

Interior

Mechanical

Safety

Warranty
2500 Regular Wheelbase Rear-Wheel Drive Starting MSRP:

$30,745

*

2500 Extended Wheelbase Rear-Wheel Drive Starting MSRP:

$32,605

*

3500 Regular Wheelbase Rear-Wheel Drive Starting MSRP:

$34,065

*

3500 Extended Wheelbase Rear-Wheel Drive Starting MSRP:

$34,950

*
* *Tax, title, license and dealer fees (unless itemized above) are extra. Not available with special finance or lease offers.
** EPA Estimates Only
Saginaw Chevrolet Express Cargo Van Dealer

In Saginaw you'll find that the Chevrolet Express Cargo Van is capable of pulling off anything. You can find this versatile van available at Martin Chevrolet Sales Inc. A strong and efficient engine gives this work van unmatched performance against the competition. No matter what the job is, the Chevrolet Express Cargo Van in Saginaw is here to meet your business needs. The cargo capacity, comfort, and convenience of the Van blend together to deliver an unforgettable experience. Stop by Martin Chevrolet Sales Inc today and check out the Chevrolet Express Cargo Van.
New Chevrolet | Used Cars in Saginaw | Chevrolet Auto Repair and Service
Service | Parts Order Form | Tire Finder | GM Accessories
360 Views & Color Options
×